Mitsubishi 3D-i-see Sensor: Uses & Benefits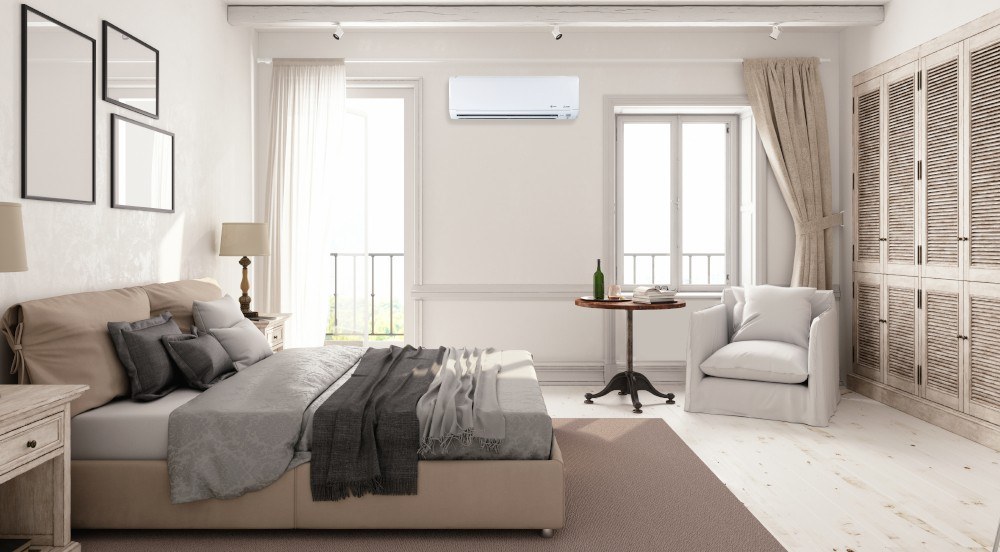 You might think having an HVAC system that doesn't work as well as it used to is just a fact of life. Dust can gather inside your equipment, or even just having an older system might lead to reduced air quality and less efficiency over time. What if there was a solution that holds up well over time and is more efficient with newer technology that allows for better comfort?
Ductless heating and cooling can be an excellent solution to these issues and a great fix for a specific area in your home. New technology helps make a ductless system work efficiently and provide more comfort than an HVAC system. The new 3D i-See Sensor technology from Trane-Mitsubishi is one such technology that helps to achieve this by using a sensor and thermal mapping to adjust the temperature in the room.
At Fire and Ice, we've installed hundreds of ductless systems with the 3D i-See-Sensor technology and answered many questions from homeowners interested in our Mitsubishi ductless mini-split.
What is a ductless mini-split?
A ductless mini-split system does not need air ducts to operate. A traditional air conditioner will distribute air from a single unit throughout the home. A mini-split indoor team will service a single room or area, with each unit using a separate fan and evaporator coil.
They can be an excellent solution for homes because of their efficiency and ability to heat and cool in hard-to-reach areas.
The "split" refers to the outdoor and indoor units. A more traditional HVAC is called a "packaged" system, with the heating and cooling equipment in one outdoor unit. Mini refers to the size of the units or heads.
How Does a Mini-Split Work?
Ductless mini-splits can always cool your air. Some models can also heat your home.
The heating/cooling combo systems function as a heat pump in that it is run based on electrical power, making the equipment very efficient.
Cooling-only units are rare in parts of the country with a full four seasons of weather. It gathers heat from the outside to move into the home. It could seem counterintuitive during the winter months. How can the system find heat outside when it's freezing? There is still heat to absorb in the air despite the feeling, and the technology produces results.
Another significant factor in a mini-split system is how many indoor units, or heads, it has. A single outdoor unit can travel to up to eight indoor heads, but residential systems generally have fewer than this.
One of the advantages of a ductless system is its multiple heads, each functioning separately; you only have to use what you need to keep your home comfortable.
How are the parts and maintenance different from a traditional HVAC?
A few items separate ductless and regular HVAC systems. For example, the homeowner can remove, wash, dry, and re-insert the primary filter on a mini-split. However, cleaning other internal parts needs to be handled by a licensed service technician, who will have the equipment and materials needed to handle the process safely.
The filters miss the same level of germs and allergens as a whole-home air filter. Carbon filters and air purifiers can be added to most systems that handle this function, but the carbon filters will stop working if they are not replaced on a regular schedule. Any air filter that you install will service a smaller area than a whole-home system, much like the mini-split.
How Does the 3D i-see sensor work?
The sensor is located on the machine and first detects the room temperature. This helps to avoid both overcooling and overheating a space. The sensor also has Absence Detection, meaning that, as soon as you leave the room, the sensor will know and will automatically switch the unit to power-saving mode.
The 3D i-see sensor also has an indirect/direct mode. Direct Mode detects the location of the occupants of the room and blows the air towards the occupants. The Indirect Mode blows air away from the occupants.
The sensor allows the system to adjust, allowing for better efficiency, so you don't have to remember to turn off or change your system to avoid high electricity bills. The sensor also knows the typical body temperature of a human and will not kick your system on during the day if a pet runs into the room. The ability to detect when it needs to run allows the Mitsubishi Ductless Mini Split to be up to 40% more efficient than a conventional system.
The units are also healthier for your home due to the advanced filtration system that removes bacteria, allergens, smoke, and odors. The systems are also more eco-friendly because they do not use fossil fuels.
The ability to change the temperature room-by-room also allows each person in your home to feel comfortable. You also are not wasting energy on heating or cooling rooms you are not using.
If you think your sensor is failing, give us a call. Then, we can run a fake load to test the effectiveness of the heat sensor and make sure it is functioning correctly.
Why should I get a ductless mini-split with this sensor?
Anywhere you can put a ductless mini-split, getting a unit with this sensor is a good idea, but especially for rooms you or your family tend to use frequently or have activity.
Garages. It's illegal to put ductwork in garages due to potential safety issues. A ductless system allows me to control the temperature in the garage throughout the year. Many homeowners are using their garages for gyms, and a ductless system solves the issue of getting too hot or cold during your activities. The sensor can also be set to blow air on you while you're working out.

Master Bedrooms. Often, these are the furthest rooms from a central heating and cooling system, and they frequently suffer. If your master suite isn't being adequately heated or cooled, sometimes a ductless mini-split is the better solution to modifying the home's ductwork or replacing the existing system.

Finished Basements. Your basement is probably too cold for gatherings and too hot when you get many people down there, even in the winter months. The sensor will allow everyone to feel comfortable and switch into power-saving mode once everyone leaves, so your electric bill doesn't skyrocket from occasional gatherings and use. If you use your basement as a workout space, a mini-split can also be helpful because you can direct air towards you while you're in the middle of your routine and set it to stop when you're finished.

Attics/Guest Rooms. Like a basement, if you have a room on the upper level of your home that you'd like to use, but it lacks air ducts traveling to it, so it's never comfortable, you can often use mini-splits to fill the void.

Slab Homes. Without a basement to house a more oversized air conditioner and furnace, these homes often lack good heating and cooling options.

Pet Owners. The sensor will not kick on if your pet is running in or out of the room. If they move around while you are at work all day, you don't have to worry about wasting energy.
The Trane-Mitsubishi ductless mini-split systems also allow for easy ways to control the temperature of your zones, either using a remote, smartphone apps, or a wall-mounted thermostat.
What is the typical cost of a unit with a sensor?
Typically, The Trane-Mitsubishi ductless mini-split systems with the 3D i-see-sensor cost around $5,000 to $9,000 per single zone. We recommend you read our mini split cost article for more information on general cost information for a ductless mini-split.
If you're considering a ductless system, there's no wrong time to speak to a licensed HVAC contractor to discuss your options, get an estimate for free, and make the decision that's right for you and your home.
If you're in Columbus, OH, or surrounding areas, Fire & Ice can help with that decision. We'd love to educate you on all your options and help you determine if a ductless mini-split is right for you. So give us a call today!
Learning Center
Explore our learning center. It's a comprehensive section focused on answering your questions, providing detailed information, and tips that will improve buyer education when it comes to your home's HVAC system.
results found for ""