1000 ? mobileCTA = true : mobileCTA = false">
Heating & Air Conditioning Services for Canal Winchester, OH
Tracing its roots back to 1828, Canal Winchester is actually in two different counties (Fairfield and Franklin). It's still inside the Fire & Ice service area, though.
The area is home to a number of seasonal festivals and historic landmarks, including the National Barber's Museum and National Barber Hall of Fame!
HVAC Services - Canal Winchester, OH
Air Conditioners
Heat Pumps
Furnaces
Air Duct Cleaning for Canal Winchester, OH
Dirty air ducts are a leading cause of several problems faced by homeowners. Dust, dirt, mold, odors, allergens, and other irritants can make indoor air unhealthy. Clean air ducts can help remedy this. In addition, your HVAC system will run longer and more efficiently with clean air ducts.
We offer air duct cleaning in Canal Winchester, OH. To get started, click on the button below.
HVAC Repair Services: Heat Pumps, Furnaces & Air Conditioners
When your system starts to break down, sometimes it's time for a brand new system. But other times it's just a single part, and you can get years of life out of the existing system. Our thorough diagnostics will cut to the heart of the matter to get you the repair options that are best for you.
HVAC Maintenance & Tune-ups: Heat Pumps, Furnaces & Air Conditioners
The best way to ensure the health of your HVAC system (and the health of your family) is to have every major piece of equipment tuned up once per year. We never cut corners to make sure your air condition, heat pump or furnace is running at peak efficiency.
HVAC Replacement & Installation: Heat Pumps, Furnaces & Air Conditioners
When it comes time to replace your heating and cooling equipment, you want honesty from the people you work with, and you want to know that you're getting your money's worth on your investment. Our installation practices are the most thorough in Central Ohio. From the sales appointment where we'll uncover your individual needs, to after the installation when we teach you how to get the most from your new, modern system, we're here to be your partner every step of the way.
Fire & Ice Customer Reviews: Canal Winchester, OH
See some of the great things our customers have to say about our business:
"I purchased a new Trane Furnace and Central AC from Lowe's and was installed and will be warrantied through Fire and Ice Heating and Air here in Columbus, Ohio. It has been handled exceptionally well. The sales representative Brian and the installation team led by Lane were professional, knowledgeable, capable and I will recommend this firm if presented the opportunity."
- Chris Nestor
"We are very pleased with Fire & Ice. Scott did an excellent job of explaining what HVAC system we needed and explained the installation process plainly. Our installers Lane and Floyd did a great job installing and explaining the new system. We are very glad we chose Fire & Ice and would recommend them to anyone. Price, service and follow up are great!"
- Jack Eigensee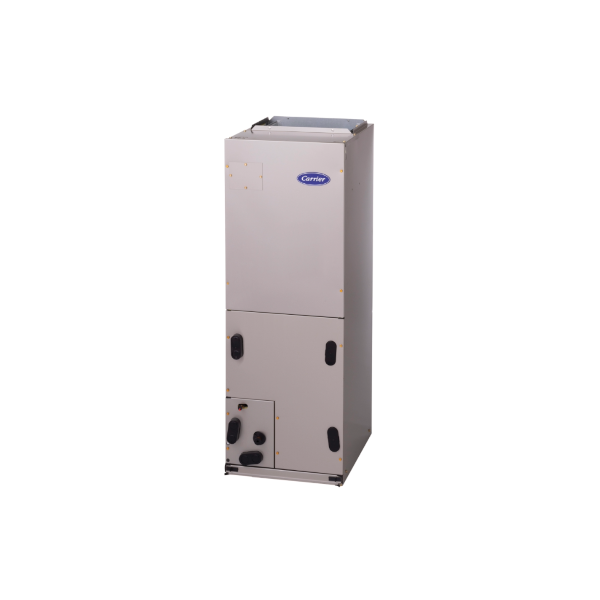 The Carrier Comfort FJ4 Air Handler offers homeowners comfort features and compatibility with HVAC accessories. This unit has excellent durability, and its multi-speed ECM blower motor increases its energy efficiency. Keep reading to learn more!