Annual Tune-Up Service for Your Furnace
Schedule a professional, comprehensive 17-point furnace tune-up. We service furnaces of all brands.
Just like servicing your car, your home's furnace requires service once a year by an HVAC professional. It is a matter of safety for your family and keeping your furnace running longer and efficient while doing so. If you have a maintenance agreement with us, we will remind you when a tune-up is due. A maintenance agreement will also save you money year-round when service is required and comes with an extended warranty on repairs.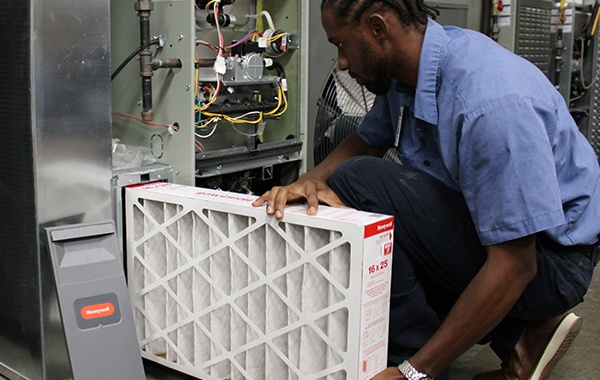 17-Point Furnace Tune-Up Checklist
One of the most comprehensive Furnace tune-ups available in the industry.
Test for Carbon Monoxide.
Test for gas leaks up to furnace shut off valve.
Check air filter, replace with home owner supply.
Check humidifier operation, change for winter operation.
Test and adjust operation of safety and operating controls.
Inspect flue pipe and draft diverter.
Monitor for combustion leaks.
Test gas valve operation.
Check blower motor (and belt if applicable)
Test and tighten all wiring and connections.
Adjust burner for maximum efficiency.
Clean burners and inspect heat exchanger.
Clean and adjust thermostat.
Lubricate all motors, bearings, fans and circulators.
Clean and adjust pilot assembly.
Clean flame sensor.
Inform customer of equipment conditions.
Maintenance Agreement Benefits
Save even more money while protecting your investment with an HVAC system maintenance agreement.
Why Choose Us for Your Furnace Tune-up
We are constantly evolving and improving the way we do business.
24 Hour Service

24 hours a day, 7 days a week, and 365 days a year, you have Columbus's leading Furnace repair specialists awaiting your call!

We Service Your Area

We service all of the Columbus metro, Columbus, Powell, Westerville, Grove City, Galloway, Pickerington, and more.

Affordable Repairs

After diagnosing the system, your technician will verify the repairs and cost before they perform the work. There are never any surprises at the end of the service!

One-Year Warranty

We stand by our work by offering a one-year warranty on all our repairs and extended repair warranties for our Maintenance Agreement holders.

Training

Fire & Ice's technicians go through on-going training year-round in the largest training facility in Central Ohio, also owned by Fire & Ice.

All Makes and Models

Fire & Ice can repair any Furnace regardless of make and model!

Superior Service

With our accreditation and A+ rating from the Better Business Bureau, you can trust that your Furnace is in good hands with Fire & Ice.