Heating and Air Conditioning Services
Professional HVAC Services
Experience why homeowners all over Columbus choose Fire & Ice to service their heating and air conditioning equipment.
Air Conditioning Services
Services to ensure your home will be ready and comfortable even on the hottest days of the summer.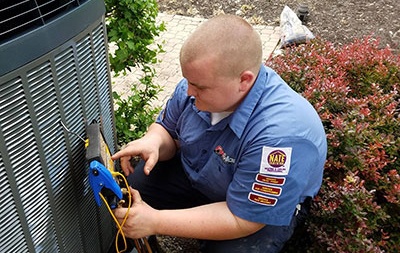 Air Conditioner Tune-Up
Stay on track to keep your energy bills low and consistent throughout the hot weather and maintain your air conditioner's warranty with regular tune-ups.
Air Conditioner Repair Services
When your air conditioner stops performing as it used to and an increase in energy bills occur, it's time to give us a call. Our factory-trained technicians can assess the unit and provide you with a full estimate before the repair.
New Air Conditioner Installation
Air conditioners, especially older units, can be the most expensive to repair. Purchasing a new air conditioner has advantages in both comfort and energy efficiency.
Heat Pump Services
Highly trained technicians ready to service the demanding performance of a heat pump all year round.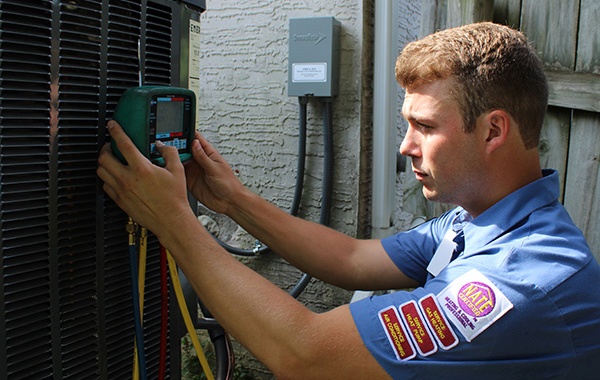 Heat Pump Tune-Up
Heat Pumps are complex systems design to both heat and cool your home. Regularly keeping your heat pump serviced through routine maintenance will increase its life-span season after season.
Heat Pump Repair Services
You depend on your system day in and out. Heat pumps don't get a break when the seasons change. When performance gets questionable, and energy bills increase, have a trained technician inspect the unit to get it back up to speed.
New Heat Pump Installation
As your equipment gets older, repair expenditures can rise. With a heat pump being the workhorse all year round, it may be time to invest in installing a new higher-efficiency unit.
Furnace Services
The services to keep your home ready and comfortable even on the coldest days of winter.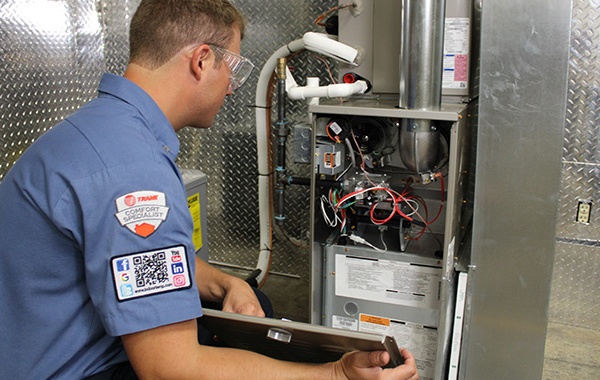 Furnace Tune-Up
A routine furnace tune-up ensures safe operation and peak efficiency for your home. It's also required to maintain your furnace's warranty if a problem ever does arise.
Furnace Repair Services
Symptoms of an issue with your furnace can be a gradual decline or even a sudden drop in performance. Our team can diagnose the issue and provide you with an estiamte prior to your decision to repair.
New Furnace Installation
A new furnace is a great way to reduce potential wasteful spending on repairs on older equipment, including saving gains in lower utility bills with higher efficiency furnaces.
Maintenance Agreement Benefits
Save even more money while protecting your investment with an HVAC system maintenance agreement.
Ensure Manufacturer Warranty - All manufacturers require preventative maintenance documentation.
Lower your Energy Cost - Keep your equipment running as efficiently as possible, reducing energy bills.
Extend the Life of Your Equipment - Equipment lasts longer with preventive maintenance.
Detect Problems Early - We can pinpoint and correct developing problems before your equipment fails.
Lower Life-cycle Cost - Over the life of your equipment, you will experience lower total operating and maintenance costs with fewer interruptions.
Operate Equipment Safely - Inspecting the safety components in a system can prevent accidents.
Maximized Home Comfort - Our Comfort Assurance Policy is a process that assures your HVAC questions and solutions are reviewed.
Protect Your Family's Health - Early detection of Indoor Air-Quality (IAQ) Issues.
| | | | |
| --- | --- | --- | --- |
| Compare Service Agreements | Better | Best | Fantastic |
| | Reliability | Efficiency | Peace of Mind |
| Tune-Ups per year* | Spring & Fall | Spring & Fall | Spring & Fall |
| Warranty period for repairs performed (parts & labor) | 1 year | 2 years | 3 years |
| Life time workmanship guarantee on repairs | ✓ | ✓ | ✓ |
| Priority status you will receive service for no heat or no cool emergency calls no later then | 36 hrs. | 24 hrs. | same day |
| Pre-season scheduling | ✓ | ✓ | ✓ |
| No overtime fees | ✓ | ✓ | ✓ |
| Discount on any equipment repairs | 10% | 20% | 30% |
| Convenient monthly payment option | ✓ | ✓ | ✓ |
| Accessory discounts | 5% | 10% | 15% |
| Equipment replacement credits for each program participation***(equipment replacement only) | $50 | $75 | $125 |
| *Choice of Technician | | ✓ | ✓ |
| REFRIGERANT 1lb. R410-A (R-22 NOT INCLUDED) | | ✓ | ✓ |
| Diagnostic fee waived upon repair. No overtime rates | | | ✓ |
| **Choice of Saturday call | | | ✓ |
| Additional Maintenance Agreement discount (per additional system) | | 5% | 10% |
| Pricing | $26/Mo | $40/Mo | $57/Mo |
Service Areas
Check to see if we service your area.