Back To Resources
Cooling and HVAC Efficiency: Tips and Tricks to Reduce Your Cost
In this article, we will explore tips and suggestions to help keep your home cool and your air conditioner running efficiently.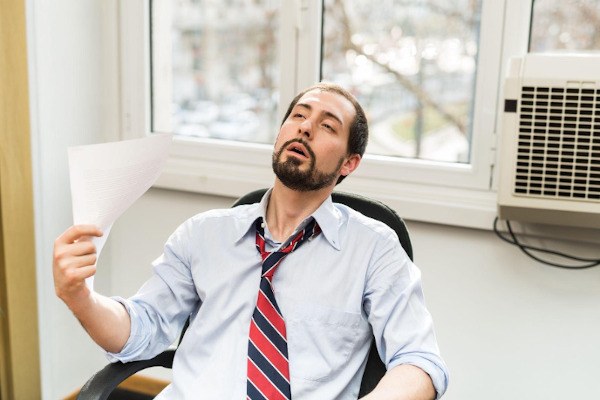 Are you worried your air conditioner and HVAC system might not be running as efficiently as they used to?
Maybe it seems to be working effectively while using it, but you get the bill for the following month and have a case of sticker shock. Or perhaps you just bought a new home, don't know the history of the HVAC system, and want to make sure your bills are not any more than they need to be.
Here at Fire & Ice, we've helped customers with these concerns and many others regarding summer cooling costs and efficiency; we understand the importance of these problems.
First, the age of your existing system can be a contributing factor in how well it performs.
Age of your HVAC System
If you haven't already, check and see if you can figure out how old your HVAC unit is. A system over 20 years old will not be as efficient as a newer one and can cost you more to run than a newer one. There are several ways you can check the age of the system. If you know the installation date, typically, the age of the unit will be close to the date that it was installed.
However, if you just bought the house, you live in or are not sure when it was installed, you can check the manufacturing serial number or model number. In addition, you can check websites such as Building Center.com's guide to HVAC and look up your system's brand. The focus will tell you how to interpret the serial number so you can determine the age and includes over 500 brands.
Additionally, check the nameplate on the outside of your air conditioner condenser. Usually, those will have a nameplate that should have information on it about the brand, model number, serial number, and production date. If you can't locate the date, the model number and production date should be enough to be able to look up the information.
With age, efficiency and seer ratings also play a role in getting your cooling bills down and keeping your home comfortable.
Upgrading to a More Efficient System
The efficiency of your system can also impact how well it runs. For the sake of efficiency, you will want to look for a SEER rating. A SEER, or Seasonal Energy Efficiency Ratio, rating scores the efficiency of a central air conditioner or heat pump.
Manufacturers divide a system's cooling output during a typical cooling season to calculate SEER ratings by the energy it uses. The higher the rating, the more efficient the system can be.
Cooling systems can fall into three categories based on SEER:
Baseline, or entry-level, efficiency: 13-16 SEER
Mid-efficiency:

16-18 SEER

High efficiency:

20+ SEER
National SEER Standards
The U.S. Department of Energy (DOE) requires modern cooling systems to be at least 13 SEER, but your state may have different standards. For example, in northern states, where it gets less hot, the Department of Energy requires air conditioners manufactured in 2015 or later to be a minimum of 13 SEER. But in southern states, the DOE requires air conditioners installed in 2015 or later to be a minimum of 14 SEER. The DOE has continued raising those standards:
Beginning Jan. 1, 2023, the minimum rating for residential air conditioning systems will increase to 14 SEER in northern states and 15 SEER in southern states. This won't affect your current air conditioning system, but it will affect your options if you're due for a replacement air conditioner in 2023. With these standards, the DOE estimates that homeowners across the U.S. will save $2.5 billion to $12.2 billion on energy costs between 2023 and 2052.
However, outside of upgrading your system to a newer, more efficient model, you can also use some other tactics to help bring those cooling bills down.
Weather Stripping and Sealing
A simple option for keeping the summer weather out of your home is to seal your existing drafty windows with weather stripping. Pick a material that can hold up to friction, weather, and temperature changes, such as vinyl or stainless steel. Doing this can help lower your summer energy costs by keeping the cool air inside your home, so it doesn't drift out and will keep your air conditioner from running as frequently.
Additionally, check the bottoms of the doors in your home; you can seal off this area by using a draft snake. A draft snake is simply a stuffing-filled fabric tube placed at the bottom of your doors that helps to block the air from entering your home.
Reflective Window Tints
If your home has a lot of windows that face the sun during the day, you can also try having a reflective window film applied to them. You can either do this yourself or have someone install it on your windows.
These products can help with energy efficiency as the light bounces off of the film and away from your house, reducing the light and heat that your home attracts. Think of it like a pair of reflective sunglasses for your home's windows. An added benefit of these products is that they typically provide a tint to your windows that creates an added layer of privacy protection.
This is also an affordable option for custom size windows or accent windows that you either don't want to cover, have a hard time finding coverings for, or don't want to pay the cost of having blinds or shutters installed.
Adjusting Your Thermostat's Temperature
You've likely heard this advice before, but increasing the temperature when you're not home is always a good idea for energy savings.
Additionally, switching out your thermostat to a programmable one can make this easier. At Fire & Ice, we sell a wide variety of programmable thermostats, from the simple to the more complex. Like the Trane XR203, some are just programmable and are great options for those looking for a simple thermostat. Others like the Trane ComfortLink™ II XL850 Thermostat have Wifi connectivity and can allow you to make up to four programmable schedules.
Maintaining Your Heating & Cooling System
This is one that we often say here at Fire & Ice, but changing your filter and completing regular maintenance helps with the efficiency of your system. We frequently go into homes where a clogged HVAC filter is the cause of issues the homeowner is experiencing.
A clogged filter means your HVAC system has to work twice as hard to pull in air to cool your home. We recommend changing your filter every three months for most households, but if you have lots of children and pets running around, you may want to do it more frequently. Additionally, having tune-ups on your AC and furnace, we recommend once a year for each system will help keep things running smoothly and efficiently.
Manufacturers will only honor their warranties (usually ten years) on systems with a maintenance agreement. This might not be as obvious if your contractor didn't inform you of it, but it's always going to be present. If you're unsure, check out your current warranty agreement. It's guaranteed to be there, and another reason regular maintenance is so critical.
What we think about less, though, is what we're losing even when a system is working "properly."
For example, with your air conditioner, the condenser unit sits outside and will become dirty over time. This is an inevitable aspect of having a conventional A/C unit with an outdoor unit. To ensure correct operation, it needs to be cleaned professionally. Most people assume their air conditioner is working fine and skip this cleaning for a year or two. Once you start to ignore cleaning the condenser, each year, the air conditioner's efficiency will drop by approximately 10%.
A great way to prevent this is to sign up for a maintenance agreement like the one we offer at Fire & Ice. This will allow you to keep your air conditioner running smoothly, but it will also allow you to book appointments easier.
Next Steps
All of these combined will help keep you and your family efficiently comfortable in the cooler months. If you've tried all the small tricks, live in the Central Ohio area, and think it simply might be time to upgrade your system, check to see if we service your neighborhood using the map below. We'd be happy to answer any questions you might have about upgrading or changing your current system.