Product Review: Carrier Infinity System Control Thermostat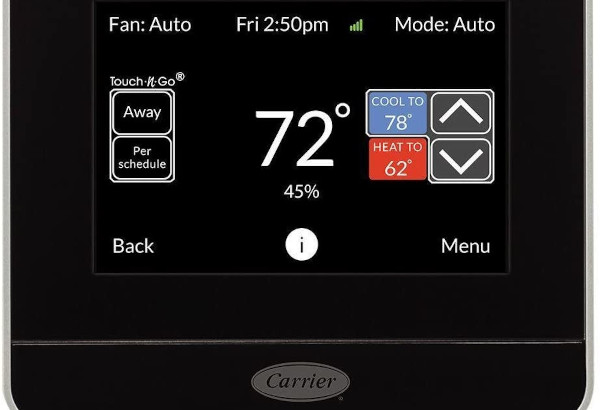 If all you want your thermostat to do is allow you to turn the heat or AC on or off, this article isn't for you.
There's nothing wrong with the old technology. With few moving parts, it's dependable, simple to operate, and doesn't require a steep learning curve to figure out its functions.
Thermostats have come a long way.
Smart thermostat technology was invented to solve a problem. As more and more electrical home appliances were used, a smart thermostat showed homeowners a way to cut energy costs. If you're away from the house in the winter, the temperature would lower automatically until you came back home.
Programmable units can be set to save energy five days a week while you are at work. At night, if you prefer a cooler temperature for sleeping, it would adjust it automatically.
The Carrier Infinity System Control thermostat is "smart," can be programmed with a touch screen or through wireless devices, and can save you money while providing year-round comfort. It's wired such that it can "talk" with your entire HVAC system, check temperature and humidity levels, and learn desired heating and cooling based on homeowners' habits.
This article will explore this thermostat, its features, and its benefits. By the end, you'll have a better idea if this thermostat suits your HVAC needs.
Carrier Infinity System Control Thermostat Features
As part of a complete, communicating Infinity system, this smart thermostat takes full advantage of the best technology Carrier has to offer, including:
Greenspeed technology: This connects all of the HVAC units - furnace, heat pump, air conditioner - and makes tiny adjustments in all of them to keep the indoor temperature almost exactly at the set temperature.
Hybrid Heat system management: This system manages energy use in the winter by selecting the best heating source for the conditions. If the heat pump isn't keeping up with the heat that's required, the Hybrid Heat will fire up the gas furnace to boost the warmth. It will switch back to the heat pump when it's able to provide warmth.
Touch-N-Go Scheduling: This feature allows you to easily switch between programmed comfort settings – such as home or away modes – as your needs change. It's a tool that lets you use a simpler programming option – literally, touch and go – to help you get the maximum comfort control from the entire comfort system. With the touch of one Touch-N-Go button – home, away, or sleep – you can tell your thermostat where you'll be. It's the ideal choice for somebody whose schedule varies from day to day or doesn't fit into the two or four predictable time periods allowed by the thermostat.
The Infinity System Control can monitor and manage:
Humidity levels
Airflow
Ventilation
Indoor air quality
And up to 8 zones, from wherever you are, with a connected smartphone or tablet.
It's also compatible with Amazon Alexa.
Carrier Infinity System Control Thermostat Benefits
The Infinity system control is designed for homeowners who value precision comfort. With wireless connectivity and occupancy sensing capabilities, the Infinity system control puts you in command of comfort and energy savings.
Do you ever wonder about how much you pay to heat and cool your home? You might be surprised to learn that your HVAC system accounts for around half of your home's energy expenses.
Energy-conscious homeowners will especially appreciate the energy tracking and reporting, as well as the occupancy sensing ability that can run the system to maximize savings when you are away.
This thermostat is responsive to homeowners' needs, changing speed quietly and using energy only when it needs it, giving greater energy-efficient command of your home. It can save you up to 23 percent in annual energy costs.
Precise comfort: When part of a complete Infinity System with Greenspeed intelligence, the control makes subtle adjustments for precise temperature control. (This thermostat will work best with other Carrier products that carry the Greenspeed label.)
Efficiency: Optimize your savings by smoothly bringing comfort levels to programmed settings. Temperature adjustments are done in small increments, which is more energy-efficient. Occupancy sensing automatically sets the system to its highest efficiency when you're away. You'll never have to pay for heat or cool that no one is enjoying.
Reminders: The Infinity system control reminds you when it's time to change filters, humidifier pads, UV lights, or schedule a system checkup.
Hands-free operation: Works with Amazon Alexa for home automation when you add it as an Alexa skill. Use AmazonAlexa voice commands to change temperature settings, check the weather, hear the news, make a phone call, play music, and more.
Anywhere access: Control your system from anywhere by using the Carrier Home app on your iOS or Android devices.
Room-to-room control: Install the included SmartSensor in another room so the thermostat can more accurately learn your family's habits and make adjustments to keep your favorite areas at the right temperature. You can add up to 31 additional sensors (sold separately).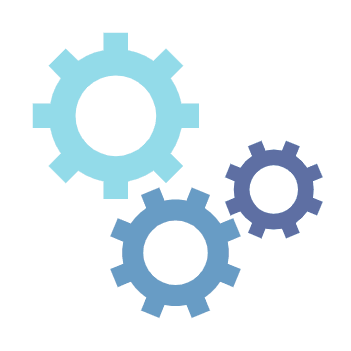 SmartSensor unlocks the following additional features:
Smart Home & Away adjusts the temperature for energy savings when you leave home and restores your comfort settings when you return.
Follow Me Detects which rooms are in use and adjusts the temperature accordingly for comfort in those spaces.
Home IQ Get a monthly savings report and compare your results to other homes in the area. It's like an energy audit at no extra cost.
Alerts & Reminders The app notifies you of sudden temperature drops that could result in frozen or burst pipes and when the system needs maintenance.
As part of a complete, communicating Infinity system, you can manage airflow, ventilation, indoor air quality, and up to eight zones, from wherever you are, with a connected smartphone or tablet.
It carries a five-year limited warranty when purchased through and installed by a Carrier dealer, and it's Energy Star qualified for local utility company rebates (where available).
The Infinity Control allows you to adjust your indoor temperature at any time, overriding your programmed settings.
What Do Communicating Thermostats Do?
The Carrier Infinity System Control Thermostat communicating feature means that all your HVAC equipment "talks" to the thermostat, which then actively manages your comfort based on the parameters you set. (To take advantage of this, your HVAC equipment must also have communicating ability.)
Imagine cruise control on your car, and how the mph you set as the cruising speed stays steady, but the inner workings of your motor will change depending on the terrain and incline. Having a communicating thermostat is like having cruise control for your entire HVAC system. The indoor temperature will stay almost exactly where you want it.
Communicating thermostats offer:
Highest efficiency ratings and low operating costs
Precisely balanced temperatures
Lower noise levels due to system components running at less than maximum capacity. Your system is loudest when it first starts from zero. When it's making small adjustments, you won't notice much of a difference
Improved dehumidification when using an air conditioner or heat pump. The longer the system runs, the more moisture is removed from the air
Can be ideal for zoned systems
Choosing the Best Thermostat For You
The first thing to consider when thinking about a new thermostat is whether you'd rather manually control it with a non-programmable option, or would you rather have a programmable device that knows your habits around the house and can control the temperature based on that. If you want to adjust the temperature yourself, a manual thermostat would work fine.
But if you are away from home during the day, or even weeks at a time, you will benefit from a smart thermostat, one that you can control from your phone or similar wireless device. You can save money with this arrangement because you can have your HVAC work less while you're away.
Before buying a programmable thermostat, you and your HVAC partner should identify the type of equipment used to heat and cool your home so you can check for compatibility. Otherwise, you may not reap the rewards of energy savings and may risk harming your heating and cooling equipment, which could also void your warranty.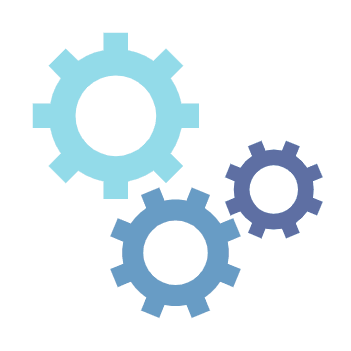 What Is the Price of a Carrier Infinity System Control Thermostat?
The cost of a Carrier Infinity System Control Thermostat is anywhere from $800 - $1200. That price range includes installation.
Smart Thermostats in Columbus, Ohio
Homeowners tend to think about thermostats as things we can set and forget. And to a certain extent, it's nice knowing that your thermostat has you covered during all seasons. You shouldn't have to be worrying about it daily.
If all you ever do with one is set the temperature, though, you're missing out on a lot of extra functionality that can improve your comfort and energy efficiency.
That's what the Carrier Infinity System Control Thermostat offers. You can gain peace of mind through its communicating diagnostics and algorithms that adapt to your home's conditions. It offers myriad functions to help your comfort level.
If you'd like to talk to an HVAC expert, we're happy to fill that role. We'd love to talk with you about thermostats or any other heating or cooling needs. Check out our service area below. We look forward to hearing from you.
Read more:
What Kind of Home Thermostat Do I Need?
HVAC Thermostats 101: Installation, Features & Controls
Learning Center
Explore our learning center. It's a comprehensive section focused on answering your questions, providing detailed information, and tips that will improve buyer education when it comes to your home's HVAC system.
results found for ""