Back To Resources
Home Heating Systems: Space Heaters vs Heat Pumps, Furnaces, and Ductless Mini-Splits
Which is the best option for heating your home during winter: gas furnaces, electric furnaces, space heaters, boilers, ductless mini-splits, or heat pumps? We compare and contrast.
Winters in Central Ohio herald cold, snowy days. It's the time we hope that our furnaces are up to snuff - your family's health and well-being depend on it.
Insufficient heat creates misery for both youth and the elderly. There's a reason Ohioans flock to Florida and Arizona to retire. More sun and mild winters are tonics for gray skies and flurries.
But if you're in the Midwest as we are, you gather around the fire, your space heaters, or your vents, and hope for an early spring.
If you're wondering which heating method is best, this article is for you. We've been in thousands of homes and have seen every type of heating system available. When we're on a sales call or doing a repair, we take careful note of the heating source or sources and plan accordingly.
According to NPR, it will cost $746 on average to heat homes with natural gas this winter, while those who use electric heat can bank on spending around $1,268 on their electricity bills this season.
Our first concern is always your best interest. After all, you know your and your family's comfort needs best. A lack of heat makes everyone miserable. Whether you're looking to replace an entire HVAC system or just want to explore options, we can offer advice.
Space Heaters
If we go to a house and see space heaters in use, that typically means that there's an airflow problem or potentially a sizing problem, or both. Maybe the furnace is oversized and thus shuts off before the warm air has a chance to mix with the colder air. We call that short cycling, and it affects the whole house.
Or maybe the heating system is undersized and can't keep up with the thermometer. It runs and runs and runs, but you never feel enough warmth.
Read more: Sizing Your Air Conditioner, Heat Pump, and Furnace
One of the questions I always ask is, "Which room doesn't get very good airflow?" Or "What's the problem room where it's either too hot or too cold?" The reason I do that is sometimes there are minor adjustments that can be made to increase comfort. Other situations need major adjustments.
For instance, most air duct lines should have dampers on them. If the dampers are closed, there won't be airflow coming from a vent. When I open the damper, that solves the problem. I'm the hero of the day, and it only took me all of two seconds. We have definitely lost sales over opening a damper, but our primary mission is to help.
If we're in a place that has no heat and we can't install a new furnace immediately, and the weather forecast is calling for snow, we have "loaner" space heaters. Obviously, we want people to have some heat. We give them two or three until we can get a new system installed for them.
There are propane heaters, butane heaters, and kerosene. None of those are designed to be inside your house, but I've seen them used that way. I've seen a kerosene heater in the middle of the living room, and I say, "That's such a bad idea." It can lead to carbon monoxide poisoning. That scenario could lead to serious health problems, even death.
What Are the Best Aspects of Space Heaters?
They're affordable, they're portable, and they are easy to replace. They also don't use as much energy as a whole-home heating system. It's the easiest heat source to install: You just plug them in. If you're living in an apartment or renting a house, do you want to invest in a permanent fixture? No. Portable space heaters are the simplest way to add heat.
They are an efficient choice when you will be in a room for a short period of time. They save energy by directly heating the occupant's immediate surroundings rather than the whole room.
What Are the Downsides of Space Heaters?
They are more like a band-aid fix instead of a permanent fix. They are not a whole-home solution. They also don't condition the air as a furnace can. The furnace's filter can remove impurities. A space heater cannot. And it can't convert to air conditioning in the summer.
Heat Pumps: Traditional and Ductless Mini-Splits
Ductless Mini-Splits Benefits
Ductless mini-splits are heat pumps. They can heat and cool, and offer zoned comfort solutions. Zoning means that the heads of the ductless mini-splits can be mounted in specific rooms. Most models utilize up to five heads, which means that they can take care of five spaces. Other models can have up to eight heads.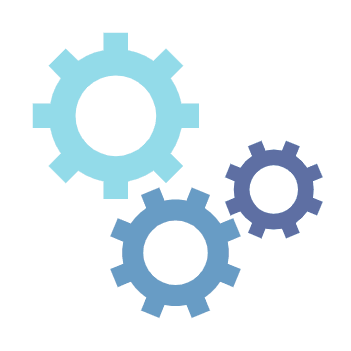 Read More: What is an HVAC Zoning System? (And Why It Works)
Most standard heat pumps can heat at 100% capacity until the outside temperature falls to 40 degrees. Below that and the heat pump starts to "derate." Their effectiveness declines.
A lot of the ductless systems – especially the Mitsubishi systems that we sell – are rated to work in lower temps than what we typically deal with in Ohio. You would have to have a crazy cold snap for it not to be able to provide any heat. Can they run at 100% in negative temperatures? No, but they still work well in the cold.
And they can heat and cool, which is one of their biggest benefits.
Read more: Ductless Mini-Splits 101: What They Do & How You Benefit
Ductless Mini-Splits Downsides
The biggest sticking point that people come across with ductless mini-splits is the look of it. A lot of people don't love the fact that this bulky thing will hang on the wall. We can mount them in the ceilings or the floor, but the lines to them will be obtrusive unless the space is unoccupied (such as an attic). It's not as common as wall-mounted ones.
Another downside is the initial cost. The cost of a ductless mini-split system can vary significantly. You should expect to pay between $5,000 to $8,000 per zone. If you have more than two zones, you can expect to pay $11,000 and up. For a full house of ductless units, expect to pay $20,000 or more.
This range accounts for the cost of the equipment, labor, and other fees. This range also covers a variety of system sizes and levels of sophistication, including variable-capacity heat pump systems.
Read more: Ductless Mini-Splits: A Comprehensive Cost Breakdown
Standard Heat Pump Benefits
This is a whole-house solution, assuming that your home has an adequate ventilation system. As I said before, it is significantly cheaper than a ductless mini-split. It heats and cools. It works by squeezing heat out of the outside air. But that leads to a downside.
Standard Heat Pump Downsides
When the temperature dips below 40 degrees Fahrenheit, it starts to derate, meaning it stops providing adequate heat. A variable-speed heat pump will derate at a lesser rate than non-variable-speed models, but the issue is the same. To provide a warm house, these types of units would need to rely on backup heat strips, also called emergency heat strips. They would be located in your furnace or air handler.
Read more: How Much Does a Heat Pump Cost to Replace in 2023?
Electric and Gas Furnaces
Fuel furnaces can use natural gas, propane, or even oil to run. There are many makes and models, and they can come equipped with various features depending on your budget and heating needs. They are common in Central Ohio because they provide steady, reliable heat. Fuel prices fluctuate year by year, season by season, but gas is almost always going to be cheaper than running an electric furnace.
Natural gas or propane are probably the best two heat sources for your home, especially if you already have ductwork in place and a natural gas line running to your house.
There are certainly good electric heat options. And electric heat got a bad reputation years ago as not being as high-quality heat as gas. But they've come a long way since then. Is electric heat as hot as gas? No. But it can produce comfort easily.
From a cost standpoint, it's natural gas, then a heat pump (with emergency backup), then propane. If the homeowner has a propane system, I recommend going with a dual fuel system, with a heat pump outside and propane indoors. That can take the edge off of your propane bill.
Read more: How Much Does a New Furnace Replacement Cost in 2023?
Boiler Heating Systems
Boilers heat water and can provide hot water or steam for heating. Steam is distributed via pipes to radiators. The hot water can be distributed by baseboard radiators or radiant floor systems, or can heat the air by a coil.
I meet with customers all the time who love their boiler systems. They say it provides steady, even heat throughout the home. Obviously, they are used for heat only, not AC. (We don't sell boiler systems at Fire & Ice.)
Will a Space Heater Work, or Do You Need More?
By now, I hope you've taken away some valuable information about types of heat.
We're not here to discourage space heaters: one or two in a home can create a significant amount of heat and comfort. But we advise using them as a complement to a whole-home system.
If you're thinking about a replacement unit, or have an issue with your heat and would like to talk to an expert about possible solutions, we're happy to come out and talk to you. Our estimates are always free, and you'll benefit from our advice without experiencing a high-pressure sales pitch.
Take a look at our map below, fill in your zip code, and see if you live within our service area. We look forward to hearing from you.