Back To Resources
New Air Conditioner Installation and Replacement in Hilliard, OH
At Fire & Ice, air conditioner installation and replacement are some of the many HVAC services we perform for the Hilliard, Ohio, community.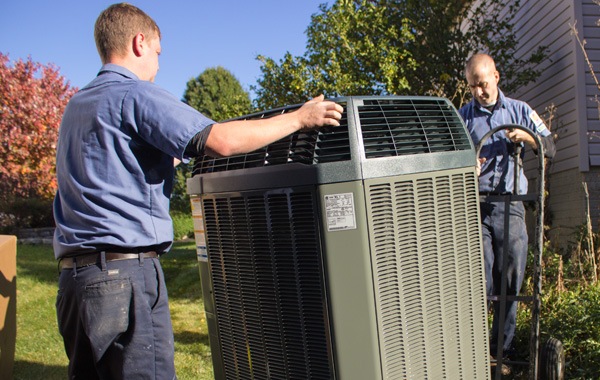 We've installed thousands of air conditioners at Fire & Ice, and we solve problems. If your AC conks out during one of Central Ohio's frequent heat spells, we'll take care of it. If your unit is sputtering, making noises it didn't use to make, we have a solution, and we offer next-day installation.
Maybe your old AC is fine. You've had it 15-20 years, and it's doing an adequate job. But that thought is stuck in the back of your head: How many more summers is my AC going to last? The repair bills are adding up; maybe it's time to invest in a new unit that will cool your home better and save you some money on your electricity bill because it will be more efficient.
We proudly serve the folks in Hilliard, Ohio, and hope this article can answer a few of the questions you might have when it comes to installing or replacing your air conditioner. We'll go over the types of ACs, along with what features they have, and then break things down by price.
By the end, we hope you'll have a clearer idea about your potential investment.
Air Conditioner Capacity
The capacity, or "size," of your air conditioner affects its ability to meet your cooling needs. It should match as closely as possible what your home requires. Figuring out that number is crucial. If it's sized too big, an air conditioner will cycle on and off too often. We call it "short cycling." That frequent turning on and off doesn't allow the cool air to mix well with the hot. As a result, you'll have hot and cold spots in the house. Some rooms may feel great; others not so much. That's not a formula for comfort.
If an air conditioner is sized too small, it will run a lot and not cool your home properly. It will drive up your electricity bill and will struggle to keep you hot on hot days.
In order to correctly size your air conditioner, your HVAC contractor needs to measure your home - and it's not just square footage. A reliable company will do a load calculation. A load calculation not only looks at the square footage of your home but also features that affect heat loss/gain. These features include the number and size of windows and doors your home has, the height of your ceilings, the type of basement you have, and so on.
RELATED: Sizing Your Air Conditioner, Heat Pump, and Furnace
Air Conditioning System Efficiency
Another one of the considerations in purchasing an air conditioner is its efficiency rating, or SEER rating (Seasonal Energy Efficiency Ratio).
The minimum standard SEER for air conditioners is 13, and most modern air conditioners have a SEER that ranges from 13 to 21. The higher the SEER, the more efficient it is. And usually, as the SEER rating goes up, the purchase price increases. However, the operating costs will be lower at higher SEER levels, which can reduce the long-term costs of your system.
Air Conditioner Stages
Air conditioners can be categorized into stages:
Single-stage air conditioners, which only have one setting: 100% capacity.

Two-stage air conditioners have two settings: 100% capacity and a second, lower setting that's usually around 70%. Two-stage air conditioners typically use less energy, which makes them more efficient than single-stage.

Variable-speed air conditioners have settings generally from 100% down to 40% and are able to increase or decrease in tiny increments. These are the most efficient among central air systems and are the most expensive.
RELATED: One-Stage, Two-Stage & Variable-Speed ACs: Differences & Benefits
Air Conditioners Need to Match the Rest of Your HVAC System
If you're replacing only your air conditioner, you'll likely need to "rate" or match your new air conditioner to your current heating system. This means that their respective capabilities need to be the same. This is typically the case if you choose a variable-speed air conditioner and don't have a furnace unit with the same feature.
Variable-speed air conditioners require indoor blower motors that operate at different speeds. Since your system's blower motor is located inside your furnace or air handler, it's important to make sure that the systems are compatible.
To get its full benefits, you may have to replace your furnace as well.
Read more: How Much Does a New Furnace Replacement Cost in 2022?
What's the Price of a New Air Conditioner in Hilliard, Ohio?
A number of factors contribute to cost, and here at Fire & Ice we like to be as transparent as possible. The video and link below go into detail on what price range to expect when purchasing a new air conditioner, and what factors contribute to the cost of a system.
RELATED: Cost of an Air Conditioner Replacement in 2022
Importantly, all of our pricing includes labor costs and all fees. Occasionally, online sources will omit labor costs to make the price seem much less than it really is. Labor can be as much as 50% of the total installation cost. Other factors determining the price besides size and the types of staging include:
Local permits

Electrical costs involving breakers and thermostats

Ductwork modification, if necessary

Condensate drainage
New Air Conditioner Installation and Replacement in Hilliard, OH
Buying a major appliance is never an easy process. If you live in Hilliard, Ohio, or in Central Ohio, the decision about which HVAC contractor is especially hard. About two hundred companies would like your business.
Which company has the best rating on the BBB site? How about Google reviews? Which one has the best set of installation procedures?
Here at Fire & Ice, we'd like for you to begin your decision-making process by taking a look at our contractor's checklist. Our free tool will provide you with relevant questions to ask any HVAC contractor. By ensuring that the contractor you choose meets each of these areas, you'll have the peace of mind knowing that whoever you choose, they'll be prepared to do the job right.
If you live in Hilliard, awesome. But heck, even if you live in California, it can be useful. Click the link above to download yours.
Read more:
Should I Repair or Replace My Air Conditioner?
If you live in Central Ohio, click the button below to schedule your free in-home estimate today!
Schedule an Estimate