Back To Resources
Is There a Best Time of Year to Buy an HVAC?
In this article, we talk about the best time of year to buy an HVAC in Columbus, Ohio and surrounding areas, as well as some tips that can help you during the process.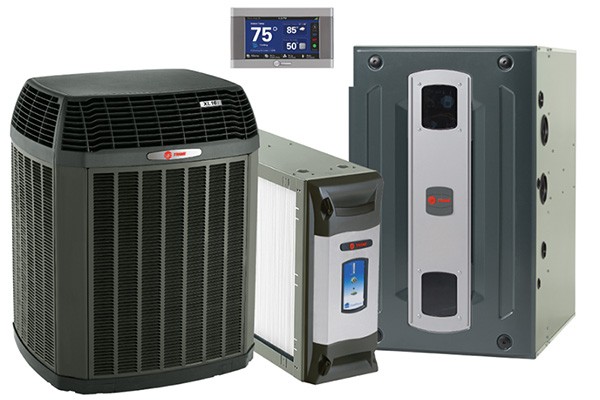 During the sales process of purchasing an HVAC, you may wonder if there are any deals to be had during the "off-season" or when the season starts to slow down. The answer is that it depends on several factors: How soon you need a system and when you're looking to buy or when your system "goes out."
At Fire and Ice, we want to provide you with the best products and services you can get for your money and make informed choices about your HVAC.
First, let's address buying your HVAC at the right time of year.
Why Buying Your HVAC in the "Off-Season" Does not Always Lead to Discounts
There is no true "off-season" in HVAC, despite what different companies and even other consumers might make you believe. Instead, it would be more accurate to describe it as "slow periods" since most homes' HVAC systems are always working. They just are not working as hard during spring and fall, when the weather is milder in most of the country than in the summer or winter.
During these slower seasons, some manufacturers will offer discounts on their models, but more frequently, these are on their higher-end models. A few thousand dollars off may not be much on a higher-end model that can cost significantly more.
Always be reasonable with expectations when you ask about deals or promotions during any season. Just because it is outside of the "busy season" does not mean that everything is suddenly going to be half price, companies still need to make money, but it is not wrong to assume that there is a deal you can get that may help offset your costs.
However, another avenue you can explore for a potential discount is asking about any older stock models that might work for your particular needs.
Incentives on Older Stock and Models
At Fire & Ice, we are working to mitigate high costs by offering customers the option to purchase older inventory. In addition, we have been offering incentives on models from the prior year or just the stock that we have that has not moved off the shelves.
This also helps us serve other customers better because it allows us to order products and keep our equipment stocked as best as possible. This way, we can have more items in stock that are in demand, and you are not waiting as long to have your HVAC equipment installed just because you want the same popular model everyone else does.
It doesn't necessarily make it more affordable. Still, it makes it more available and allows us to better replenish our back stock instead of waiting on the manufacturer to get through a shortage.
Timing for Upgrading your HVAC System
At Fire & Ice, we always say that the best time to upgrade your HVAC is whenever the right time is for you and your system. If your system reached the end of its lifespan yesterday, buying a new one right now is a great time. The timing of when that happens is ultimately up to you and your comfort needs.
That being said, prices in HVAC generally never go down, so if you are thinking about upgrading your system or your HVAC is reaching the end of its lifespan, and you have budgeted a replacement for next year, you may want to go ahead and do it now while prices are lower.
Inflation Significantly Impacts HVAC Upgrades
Due to inflation, price increases are happening more frequently than the usual twice a year which has been common in the industry. Typically, this occurs once at the beginning of the year from updated pricing for new models and another halfway through the year, around the summer time. Currently, we are seeing steeper price increases that are happening more frequently.
There is also a supply and demand issue; some of the equipment in the highest demand has the most significant incremental jump in price. We have had customers wait six to eight weeks for their equipment to be installed because it has been back-ordered due to this issue.
Prolonging a system upgrade may not always be beneficial in terms of saving you money and could end up costing you more in the long run.
Getting Ahead of an HVAC replacement
However, there are signs to look out for to ensure that you are ahead of any potential issues, so you're not replacing your system the day it breaks and can get in front of the problem.
Signs That Your HVAC May Need to be Replaced or Repaired
Regardless of the condition, if your furnace or air conditioning condenser is 20 years older or more, it may be in your best interest to replace it soon. Most HVAC systems last approximately 15-20 years. Anything beyond that, you run the risk of your system having issues and completely stopping at any time.
Other signs to watch out for include:
If your air conditioner starts blowing hot air or is not blowing air at all
This one may seem obvious, but if your air conditioner is not blowing air or is blowing out air into your home that is hot, it is time to call your HVAC technician.
Your thermostat quits working or is not showing the correct temperature
Another one that may seem obvious, but if your thermostat is not accurately reflecting the temperature in your home or, worse, stops working, it means your thermostat is malfunctioning or is not accurately communicating with your system and may need to be replaced.
Very little or no air blows out of the vents
For either your furnace or air conditioner, if no air is coming out of the vents or the airflow is minimal, it could be a sign that the compressor is failing or there's a problem with the ductwork in your home.
Strange odors or loud noises
A strange noise could indicate that a belt is loose, and an odor could indicate mold, wire damage, or something stuck inside your unit.
For any of these issues, contact your HVAC contractor as soon as possible. The typical homeowner will only buy two systems during their lifetime, making it extra crucial to protect that investment you've made and to get ahead of the issue when it is nearing the end of its lifetime.
To further protect your investment and make crucial maintenance more accessible, we recommend signing up for one of our maintenance agreements. To learn more about those, visit our article.
Additionally, looking into different financing options when upgrading your system can help with any high costs, especially if you need to replace your system sooner than later.
Look Into Financing Options for your HVAC
Additionally, we offer options for our customers to finance their products with three primary payment options to suit your needs.
Purchasing Your Fire & Ice HVAC Solution in Full
Financing for Fire & Ice HVAC Solutions
Buying Your Fire & Ice HVAC Solution with Bitcoin
Purchase Your Fire & Ice HVAC Solution in Full
If you're ready to pay for your new HVAC system in full, we accept a few payment options:
Cash
Check, including ACH digital checks
All major credit and debit cards
Financing for Fire & Ice HVAC Solutions
We offer a few financing options for making payments on your new equipment.
Some of our financing options include:
0% interest for up to 72 months on qualifying equipment
No interest if paid in full within six and up to 18 months
Lower monthly payments with interest
How Do I Apply for Financing through Fire & Ice HVAC?
Once you're ready to apply for financing, access our financing page any time and submit your application to see if you pre-qualify.
If possible, we recommend pre-qualifying ahead of your free in-home estimate because you'll have a better idea of how much you'll be able to finance, and we'll have a more productive conversation during your appraisal and be able to expedite the process.
But don't worry: even if you pre-qualify, you're not obligated to purchase a system from us. And our residential sales representatives will never pressure you.
If you're not approved for one of our standard financing options, ask one of our residential sales specialists about our additional financing options.
What Information Will I Need to Apply for Financing?
During the application process, you will need to provide some basic information such as:
how long have you lived in your current home
how long have you worked at your current job
your household income
personal data like your social security number or individual taxpayer identification number
an email address
Purchase Your Fire & Ice HVAC Solution with Bitcoin
You read that right—Fire & Ice is one of the only HVAC contractors that accepts Bitcoin!
Although it may sound gimmicky, we believe in meeting our customers where they are now and where they'll be in the future. As cryptocurrency portfolios sometimes rival or surpass traditional savings and investments, we're advising other contractors to follow us and do the same.
To pay for your new HVAC system with Bitcoin, you'll first need to download the BitPay mobile app. In our Bitcoin FAQ, you can learn more about paying for your system with Bitcoin.
Figuring out the timing, whether seasonal or when the best time is for you to upgrade your HVAC system, can be tricky. At Fire & Ice, we understand how difficult these decisions can be. We encourage you to call us with any questions you may have if you live in the Central Ohio area. Check to see if you are in our service area by using the zip code map below.
To remedy any issues with your current system, click the button below to schedule a service appointment.
If you're ready to take the next step and schedule an estimate with us, click here.