Explore the Trane XV80 Furnace
Explore and learn about the Trane XV80 furnace product features and details.
Get a Quote
Quick Overview
Details on the Trane XV80 Furnace
The XV80 Trane gas furnace is a mid-range gas efficiency furnace. This furnace is ideal for installs where venting of a higher efficient furnace is not practical but still delivering the comfort levels and reliability that comes with all Trane products. Up to 80% efficiency.
XV80 Furnace Highlights
Built to Trane's high standards
Comfort -R™ humidity control
Quiet operation levels
Comparing the Trane XV80 Furnace
See how the Trane XV80 Furnace stacks up to other comparable units.
Product
XC80
59SP5
XV80
XB80
S8X2
Brand
Trane
Carrier
Trane
Trane
Trane
Comfort Rating

75

75

71

70

68

Efficiency (AFUE)

80

up to 96.5

80

80

80

Blower Motor

Variable
ECM-Multi Speed
Variable
Multi-Speed
ECM Multi-Speed

Gas Valve

2 Stage
1 Stage
2 Stage
1 Stage
2 Stage

Humidity Control

Yes
Yes
Yes
No
No

Sound Insulated

Yes
Yes
Yes
No
Yes

Cabinet Air Leakage

< 2%
< 2%
> 2%
< 1%

Communicating

Yes
No
No
No
No
Outside Two-Stage
Unit Compatible
Yes
Yes
No
Yes
Trane XV80 Furnace Features
Details on the Trane XV80 Furnace
100% fresh air option reduces heat exchanger corrosion and ensures adequate combustion air.
Multi-Port In-Shot Burners
Perfectly shape the flame cone for the maximum heat possible while using less fuel.
Silicon Nitride Hot Surface Igniter
Highly reliable ignition system provides longer service life.
Simplified Three-Wire Connection
Allows for easy installation and is less invasive to the structure of your home.
Automotive-Grade Gaskets And Insulated Blower Compartment
Help reduce operating sound and air infiltration.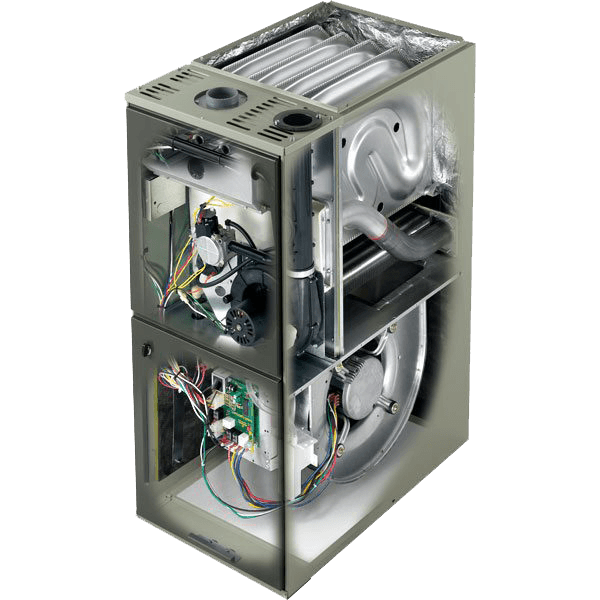 Heavy Steel Insulated Cabinet
Insulated panels hold more heat in the furnace, ensure greater durability and reduce operating sound.
Crimped, not welded, to prevent cracks from heat stress. Stamped serpentine channel offers the greatest efficiency in less space.
Made of AL29-4C stainless steel to capture more of the heat you pay for.
Variable-Speed Draft Inducer
Works with modulating gas valve to enhance efficiency, comfort and reliability.
Variable-Speed Blower Motor with Comfort-R™
Allows quieter system startups and shutdowns, greater efficiency and more thorough heat circulation. Also helps control humidity levels during summer months.