Back To Resources
Best HVAC Contractors in Gahanna
At Fire & Ice, we want our customers to be as informed as possible, even about our competitors. So we've compiled a list of Gahanna, OH companies with good reputations to help homeowners choose one that's right for them.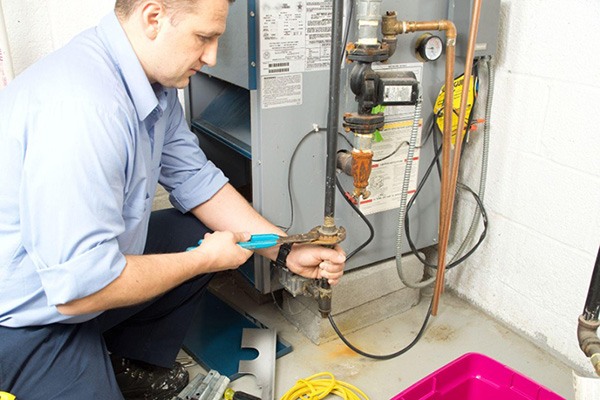 At Fire & Ice, we know that we don't land every job we bid on. If homeowners do their due diligence and get three or four quotes, we may not be the best fit. We are realists.
At Fire & Ice, we believe the most important day for any HVAC is the day of installation. A poor installation will mean a call to someone else and more money on repairs for a job that should have been done right the first time. You could pay thousands of dollars for a unit you expect to be maintenance-free, only to discover it is anything but that.
However, most consumers think more about finding an HVAC contractor or company that offers the lowest cost and fastest service when looking for one that fits their needs. Unfortunately, not all companies operate with the same standards, leaving you with a wide variety of companies with varying practices.
Studies have been completed that reiterate this idea; Research from the U.S. Department of Energy "indicates that training and standards alone are insufficient to influence trade practices, and consumers are driven primarily by low cost and fast service."
Keeping with this idea, differentiating good HVAC contractors from bad ones can be incredibly hard for a typical homeowner. So, what's the best way to sift through them and choose?
At Fire & Ice, a Columbus-owned and operated company, we've been serving Gahanna, Ohio, for years, but customers frequently ask about our opinions of other HVAC companies.
We believe strongly in answering the questions we are asked accurately. Hence, we put together the following list of six of the most prominent HVAC companies serving Gahanna, Ohio in alphabetical order.
While you go through the various companies, please remember that although choosing a good company is essential, it is only half of the equation. The local HVAC company with whom you will do business is responsible for installing HVAC equipment correctly and providing exceptional service.
You should pick an HVAC contractor or company who will go out of their way to ensure they complete each step and not cut corners to save time or money and give you excellent customer service.
Atlas Butler
Atlas Butler has been serving the Columbus area for over 100 years. They offer repair, replacement, and installation services on air conditioners, furnaces, and heat pumps. They also provide plumbing repair and installation services, ductless mini-split installation and repair, water heater installation and repair and indoor air quality services.
Best Service Heating & Cooling
Best Service Heating and Cooling has been serving the central Ohio area since 1992. They offer furnace repair and installation, air conditioner repair and installation, water heaters and tankless water heater installation, mini-split repair and installation, home zoning, indoor air quality services, and duct cleaning services.
CJS Heating & Air Conditioning
CJS provides services to Gahanna and other areas in Franklin and Delaware counties, as well as Dayton, Ohio, Springfield, Ohio, and Kokomo, Indiana. They offer furnace repair, heat pump repair, thermostat repair, and replacement and emergency repair services.
Custom Air Conditioning
Custom Air has provided services to Gahanna and the surrounding areas in Franklin and Delaware counties since 1976. They offer heating installation and repair, air conditioning installation and repair, indoor air quality services, heat pump installation and repair, dehumidifier installation and repair, air handler installation and repair, mini-split repair and installation, oil furnace installation and repair, geothermal system installation and repair, emergency repair services and boiler installation and repair.
Gahanna Heating and Cooling
Next on our list is Gahanna Heating and Cooling and they have been serving Gahanna and surrounding communities since 1972. They are a York Certified Comfort Expert and specialize in residential and light commercial HVAC.
New Albany Heating and Air Conditioning
New Albany Heating and Air Conditioning is a part of Five Star Heating and Cooling Group. They service Gahanna, New Albany and the surrounding areas. New Albany Heating and Air Conditioning offers furnace repair and replacement, air conditioner repair and replacement, heat pump repair and replacement, plumbing, and indoor air quality services.
This is not a comprehensive list of every contractor in the area but can help in your research.
Choose the Right HVAC Contractor in Gahanna, Ohio
With so many options to choose from, it becomes difficult to narrow it down to a provider that works the best for you and your needs. These are some essential factors to consider when deciding on an HVAC company to work in your home:
Standard and Care for Employees
One of the first things you should ask about is the standards and care they set for their employees. Are they independent contractors or W2'd employees with benefits? We've seen that systems installed or repaired by independent contractors are often poorly done. This could end up costing you in the long run because you end up having to call someone else to get the job done right. At Fire & Ice, all of our employees are held accountable for the quality of their work, not just the amount of work they do.
Training for HVAC contractors
Next on the list is training. We at Fire & Ice, are firm in our commitment to continuing education. We own Central Ohio's largest training center, where we provide our technicians with over 200 hours of continuing education every year. We encourage and reimburse our technicians for all certifications they are granted.
Our installation team members are N.A.T.E certified, the industry standard for excellence.
Follow-ups and Maintenance
We perform thorough commissioning that tracks 57 different variables on every installation we do. The process helps to ensure maximum equipment performance and helps sets benchmarks for future technician visits. Commissioning is not always performed industry-wide or not as thoroughly. There's a chance that your installation is OK without testing it in this way, but no way to know unless that is performed. Commissioning can take up to an hour of extra time. Rather than racing to the next job, we serve it every time to make sure the work we do is up to the standards you deserve.
We follow up with every customer at two weeks, 90 days, six months, and one year after we install a product in your home. At Fire & Ice, we offer reasonably priced and scheduled maintenance plans to service your system effectively and keep you worry-free about your home's comfort level.
High-Pressure Sales Tactics
If you've experienced high-pressure sales tactics, you know how terrible they can make you feel. At Fire & Ice, we understand that purchasing a new HVAC system is a massive decision that will impact your home's comfort for the next 20 years or more. That is why we strongly believe in never using high-pressure tactics.
Manual J Load Calculations
Load calculations are also essential. One way to maximize the performance of any HVAC system is to have it adequately sized for your home. The most effective way to do this is to perform load calculations during a sales consultation.
A Manual J Load Calculation is a survey by a qualified HVAC contractor to determine your home's unique heating and cooling load, expressed in BTUs. This load figure is then compared to the capacity specification of available new HVAC machines. In this way, the unit you select can be a perfect match for your home—not too big, not too small.
Often, this process is skipped over, and HVAC contractors simply use the same size system you had previously or make assumptions about what you need based on the size of your home.
This is not the correct way to size a new HVAC unit because it does not take into account other factors that are included when a load calculation is done, such as the placement of windows on your home, how many you have, and the direction your home faces and more. HVAC contractors who do not take the time to complete this step run the risk of installing a unit that is not the correct size for your home.
Installation Practices
Last is installation practices and follow-up. If corners are cut, and less accurate tools are used to install your equipment, your system will probably fail sooner than it should. We use accurate digital tools and up-to-date installation practices to ensure your system is installed right the first time. If you're not 100% satisfied, we will find a solution.
Next Steps to Getting an HVAC Contractor in Gahanna, Ohio
If you are in the Gahanna, Ohio, area, please give us a call. Even if you live in the Central Ohio area, please give us a call. Use the zip code map below to check if you're in our service area.
If you are in our service area and would like an appointment, click below to contact our team.